Designing icons for Mac OS X is an intricate and painstaking process because the maximum resolution is so high, up to 512x512 pixels. At that size, Apple suggests that your icons be as photorealistic as possible, which calls for a lot of design talent. Icons for OS 9 and earlier versions of Mac OS X didn't need to be so incredible detailed as they were never shown at large sizes — letting a designer get away with some pixel imperfections here and there.
The current school of icon designers aren't typically at 1600% zoom in Photoshop placing each pixel precisely, but are using scalable vector illustrations and 3D renderings to produce the realism they desire. I've talked to many icon designers and although rendering icons in 3D is the ultimate way to get photorealism in an object (shading, lighting, perspective, etc.) many are still using Illustrator and Photoshop to work their magic. The last few versions of Photoshop have offered vector drawing tools similar to Illustrator, so now even Photoshop allows you to design nicely-scalable graphics which are very important when designing application dock icons.
I download applications all the time — normally to actually use the program — but sometimes just because I like to study the dock icon at full-size and see how certain lighting and shading scenarios were created. In case you're not aware, here's a quick way of viewing the full .icns file with the high resolution icons:
Download the application, find the main .app bundle.
Right-click on it, go to "Show Package Contents".
Navigate to Contents > Resources and find the .icns file for the app.
Open the file in Preview to see all sizes.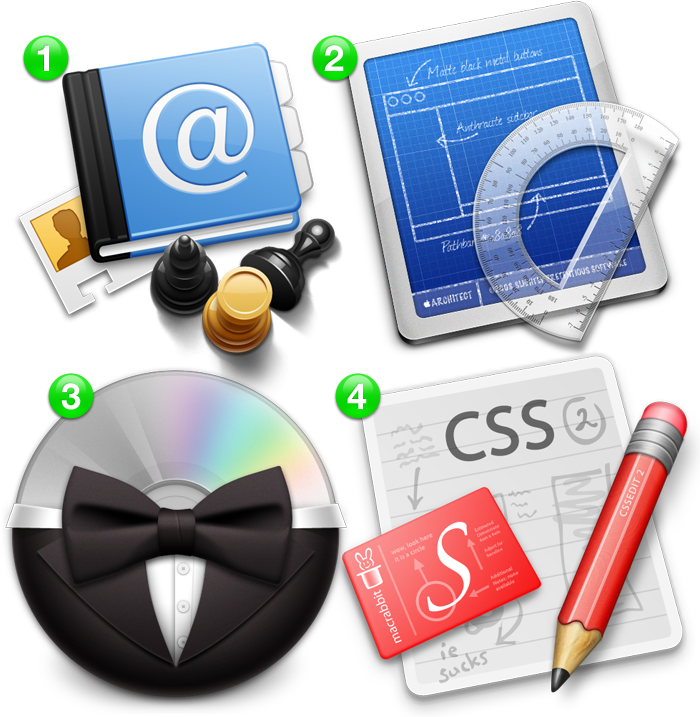 Shown above are some beautiful application icons I've seen recently. In numerical order is 1) Relationship designed by Icon Drawer, 2) Architect & 3) Bowtie, both designed by Laurent Baumann, and 4) CSSEdit.
I've spoken to Laurent and he's told me that he still works completely in Photoshop for all his icon work, even though his designs look beautifully photorealistic. The chess pieces in the Relationship icon look very real, so I'll guess that it was easier to accomplish that realism by using a 3D rendering app like Cinema 4D. The CSSEdit icon has some great hidden text on the bottom left if you're viewing it at full-size.
Seen any other great icon design work recently? Let me know!